So You're Decorating A Tent Wedding
Part of a series on tent weddings…
We're back to talking about tent weddings. We dived into the basic amenities you may not have considered when hosting a tented wedding. And now we're back to chat about our favorite part of any celebration- the decor! So without anymore fanfare…
Let's dive in.
We Iron The Linens
We love the farmhouse table
trend so much, and truly hope it never goes away if for no other reason than any bare table under a tent will save so much time and labor on your wedding weekend. Why? Draped tables should not be set until late morning the day of the event to keep them moisture free for your guests. This means any presetting cannot be done until the day of. Also, we highly recommend making sure any wrinkles or deep creases are ironed out of your linens. See the picture below for why you'll thank us later for this tip.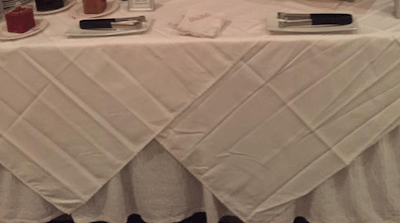 Hello Mother Nature
This may seem like an obvious consideration for an outdoor wedding but we assume nothing. When deciding on how you will decorate your outdoor wedding don't forget how windy conditions can ruin your Pinable decor. Candles will need to be lit, and re-lit, and re-lit, if not properly protected from wind (more on that below. Menu cards perfectly placed on your table setting will blow away without an anchor. We love the look of using favors or other personal touches to add weight. And linens will become destructive sails under the wrong conditions. We will always recommend sidewalls when ordering your tent because even on the sunniest and driest of days, wind can be a factor.
Light The Way
We could talk for days on all the different ways you can set up your lighting- the options could truly be endless.  When we're deciding on how to light a tented celebration we consider many factors under and outside the tent.  Inside the tent we want to make sure candles stay lit by placing hurricanes over taper candles. We typically opt for lots of string lights, but on a dimmer.  We also consider how many activities will occur outside the tent after dusk. Will lawn games be provided throughout the night?  And will restrooms have their own lighting and is the path illuminated?  
If your left second guessing your decision to host a tent wedding, we'll never stop advocating for you to hire a team to help you navigate the logistics of decorating your tent wedding.   We know the piece of mind of having a team working behind the scenes for a seamless and stress free experience is an expense no one ever regrets.